| | | |
| --- | --- | --- |
| | Bluff Park Holiday Events Calendar 2012 | |
Donít see your event? Send events in to Heather@bluffparkal.org or info@bluffparkal.org
October
Pumpkin Patch begins Sunday, October 14th and ends Wednesday, October 31st. Come pick out your favorites in various sizes and meet your neighbors!
"Trunk or Treat" is Wednesday, October 31 beginning with hot dog dinner with drinks and dessert at 5:30 p.m. Dinner is $5. Trunk or Treat begins at 6:15. Bring your candy bag or bucket and wear your favorite costume.
November
December
October
November
December
Lights on the Bluff, Saturday December 10th, 5-7:30 p.m.: Bluff Park Baptist Church, live nativity, hayride through the community to see the Christmas lights, hot chocolate, wassail, marshmallows and weenie roast, make'n'take craft booth, free fun for the whole family.
October
November
December
Shades Mountain Independent Church and School
2281 Old Tyler Road
978-6000
www.smic.org
October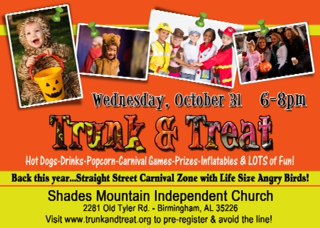 Join us on October 31 at 6:00 p.m. for a night of fun, safe, & FREE activities on the grounds of Shades Mountain Independent Church for our 8th annual Trunk and Treat. There will be plenty of creatively decorated car trunks, the Camp Straight Street Carnival, Inflatables, cotton candy, free hot dogs, and of course, LOTS of candy! Fun for the entire family! Click here to register and avoid the long lines.
November
A noted speaker and vital member of the Auburn football program, Chette Williams ministers on a daily basis not only to coaches and players, but to numerous staff throughout Auburn University's Athletic Department. Serving as the team chaplain and campus director for Fellowship of Christian Athletes, Williams has been named "Spiritual Coordinator" for the team, providing guidance, encouragement, and spiritual direction for the Auburn players.
Williams chronicles his time at Auburn, his family, and how God called him to his current vocation in his book, Hard Fighting Soldier, published in 2007. The book recounts milestones that include his three letterman years playing Auburn football, his studies at New Orleans Theological Seminary, and his service in a variety of ministry-based roles in the southeast.
Come hear Chette Williams share what the Christ has meant to his own life and to those he has influenced in his world on Sunday, November 4 at 10:30am in the SMIC Sanctuary. Autographed books will be available for purchase. Come early for complimentary donuts and coffee in the lobby!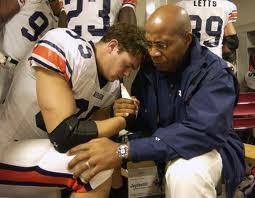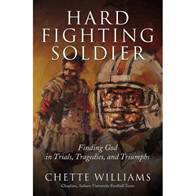 ---

If you're separated or divorced, the holidays can be a lonely, stressful, depressing time. But there's hope. Join us for an encouraging seminar that will help you survive the holidays and discover new ways to enjoy them again.

Saturday Seminar

November 3rd 9:00am - 11:30am

Shades Mountain Independent Church Chapel

Cost is $5 for Workbook. Free childcare provided. Register here or call 978-6000.
December
October
Crest Fest on Sunday October 28th, 3:30-6 p.m.: Truck or Treat and games/activities for the kids!
November
December
Bluff Park United Methodist Church
733 Valley Street
822-0910
www.bpumc.org
October
November
December
St. Alban's Episcopal Church
429 Cloudland Drive
822-2330
October
November
December
Artists on the Bluff
571 Park Avenue
October
November
December
October
Hoover Hayride & Family Night
Saturday, October 27, 2012
5:00 - 8:00 pm
Veterans Park on Valleydale
Parking at Spain Park High School with shuttles provided
Hayrides around the park
LOTS OF CANDY!
Magicians, Balloon Artists, & Face Painting new this year.
FREE TO THE PUBLIC

∑
Shades Mountain Elementary School will be holding their Fall Social on October 22 from 4:30-7. There will be a ribbon cutting for the new sports field, walking track, and garden as well as refreshments, crafts for sale, and games.

November
December