Bluff Park finally got to celebrate its second annual community party after it was initially rained out by Hurricane Gustav. Hurricane Ike threatened the party, as well, but it became a tropical storm by party time! Residents gathered on a sunny Sunday afternoon to meet and greet neighbors, mingle and talk with officials from the city, and check out area businesses all at Shades Mountain Shopping Center.
This year, the party featured Southern Stang Mustang Club and Dixie Vintage Auto Club. Residents got to look at classic cars and chat with owners.
The City of Hoover was out in force to talk to residents, display equipment and demonstrate tools of the trade. The center piece, Hoover's Mobile Command Center, was on display for people to check out. Party goers got a birds eye view from the mast cameras on the MCC. Officer Brian Foreman was also on hand to talk about Hoover's Neighborhood Watch program.
Another treat, the PD brought out their new T-3 Personal Vehicles and Motorcycle Units for residents to see. One officer even demonstrated the mobility of the T-3 vehicle.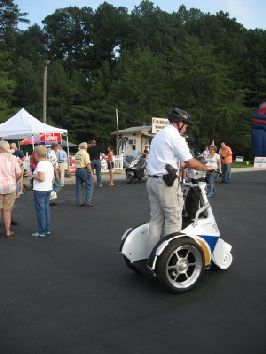 Members of Hoover Fire Station No. 5, located in Bluff Park, brought one of their fire trucks out. The truck was very popular with kids and parents attending. Parents could take photos of their kids on a real fire truck and talk to fire fighters and rescue crews.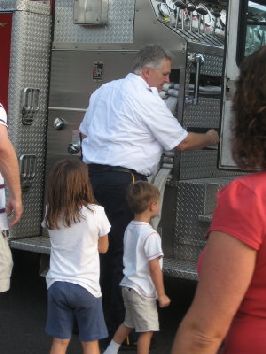 Representatives from Hoover City Government also attended the party to talk to residents and enjoy the festivities. Among the guests were , State Representative Paul DeMarco, Mayor Tony Petelos, Councilman Gene Smith and Judge Lawson. Candidates for the open seat on the City Council, Jim Brown and John Greene, came out and met with residents.
| | |
| --- | --- |
| | |
| State Representative Paul DeMarco speaks with residents. | Hoover City Council candidate Jimmie Brown and Hoover City Councilman Gene Smith |
| | |
| Hoover City Council Candidates John Greene and Jimmie Brown | Hoover Mayor Tony Petelos and members of the Hoover PD |
Party goers also got to talk with businesses in the area. Several venders, including Hoover Fitness, Tyler Crest Town homes , OnSite Brakes, Caribbean Ice, Roberts Discount Pharmacy and more set up tables with information and door prizes.
| | |
| --- | --- |
| | |
| Hoover Fitness speaking to residents. | OnSiteBrakes.com had their truck on display. |
| | |
| Tyler Crest Town Homes with Gwen Brannum | Robert's Discount Pharmacy with a few friends. |
Bluff Park kids, and even a few adults, had a lot of fun playing on inflatables provided by Shades Mountain Independent Church.
| | |
| --- | --- |
| | |
| Inflatables | Inflatables |
Special Thanks to:
Shades Mountain Shopping Center and John Lemak
Shades Mountain Independent Church for providing the inflatables, sound system, stage and portable rest rooms.
Also thanks to Bluffparkal.org sponsors, the "All For One and One For Everybody" planning committee including Robin Schultz, Ron Lane, Matt Ennis and John Lemak and all the Bluff Park Residents joined us!
Bluff Park T-shirts are still on sale and are available either online or at Caribbean Ice for $10.00.