Linda Williams, advisor to the City of Hoover, said several months ago that starting the Artists on the Bluff project was like giving birth to a new baby. Today, wow has that baby grown! If you pass by Bluff Park School on Park Avenue in Bluff Park you may notice that the new signs have gone up for Artists on the Bluff and the building is getting a fresh coat of paint. While the new sign replaces the old one, the historic name of the school is still on the underside of the front door reading "Historic Bluff Park School".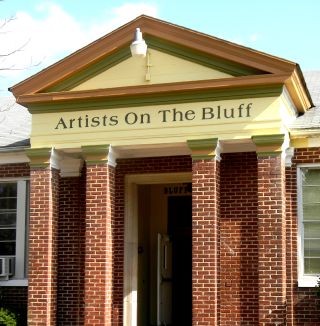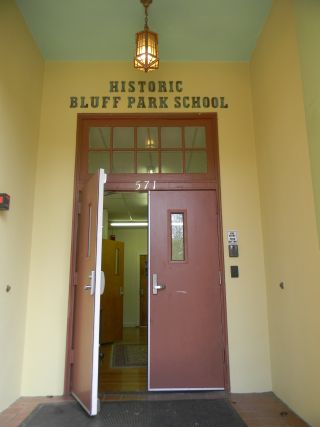 "We have been getting many people just stopping by to see what's going on while they are on a walk on the sidewalks or picking up their kids from school. It's very exciting and I am glad to see the community excited about the changes also."

Bluffparkal.org is pleased to announce that the open house for Artists on the Bluff is set for this spring, tentatively late April or sometime in May.


Although the open house is a few months away, there are classes already starting at Artists on the Bluff. We stopped by to visit with Cecily Chaney at her studio. The metalsmithing and jewelry making studio will host classes in Beginning and Intermediate Silver, Cold Connections and Wire Wrapping. Classes with Cecily Chaney start March 1st, 2012.

Artist Deb Warnat also has her calligraphy and painting studio set for classes. In one class students will cover the whole alphabet. It's called The Wine, Women and Pens class and is a five week course meeting on Friday nights at 6:30. More information can be found here .

Other classes offered by Warnat include a watercolors class starting March 6th, 2012 and a class for kids called Children's After School Calligraphy which will be on Mondays beginning April 16, 2012.


One big transformation inside the building is happening in the old school lunchroom where veteran restaurateur Frances Moon is opening a coffee shop type eatery. After classes students are going to be able to enjoy a drink and treats at the new coffee shop. The official name is not set yet but it's being called the Park Avenue Coffee Shop for now. There will be two to three choices of sandwiches, salads and deserts and drinks Operating hours are set for 7am to 2pm with the possibility of longer hours in the future.