Tuesday November 14th marked Bluff Park's second community meeting concerning police presence in the area. The meeting was held to a standing-room-only audience at Bluff Park Community School. Attending the meeting were Mayor Tony Petelos and City Council President Gary Ivey. Councilmen attending were Gene Smith, Brian Skelton, Trey Lott and Jack Wright. Also in attendance were State Representative Paul DeMarco, Officer Brian Foreman, who is heading the Neighborhood Watch Program, and members of the BluffParkAl.org team.
The meeting started with Officer Brian Foreman giving a presentation on a Neighborhood Watch program and Business Watch for residents to join. Each neighborhood or business should contact Officer Foreman for information on beginning and organizing their area's watch program. For more information and handouts to form your Neighborhood or Business Watch, click here.
Officer Foremen also answered safety questions concerning traffic in and around Bluff Park Elementary School.
After Officer Foremen's presentation, Mayor Petelos outlined city plans for a new police substation that will be in the Bluff Park Village shopping center. Petelos also gave an overview of a new project that was featured in the Birmingham News that morning. The project features plans to revitalize Bluff Park Village and Shades Mountain Plaza.
The city hired Atlanta-based consulting firm Robert Charles Lesser & Co. LLC to study the feasibility of the project. The work is estimated to take 10 to 12 weeks. If the project is deemed feasible, landowners could renovate old buildings and also put up new ones. With the possibility of grant money or discounted loans, the city could install new roads and sidewalks. The city will pay $30,000 for the study.
Area residents also had questions concerning ongoing plans in the area. City officials gave updates on extended sidewalks along Park Avenue and gave the current status of grant money that will be used to beautify the Alford Avenue exit at I-65.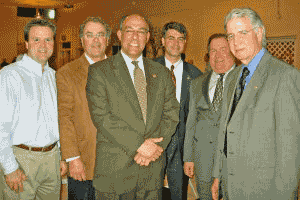 From Left: Councilman Trey Lott, Councilman Jack Wright, Mayor Tony Petelos, State Representative Paul DeMarco, Councilman Gene Smith, Council President Gary Ivey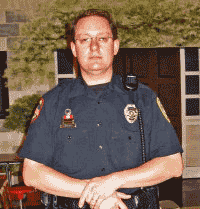 Hoover Police Officer Brian Foreman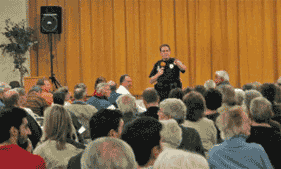 Officer Foreman addressing the audience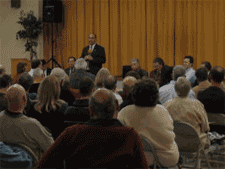 Mayor Petelos explaining plans for Bluff Park