Put your walking shoes on! We are not going far! The first stop on our historical journey is the Park Avenue Historical District.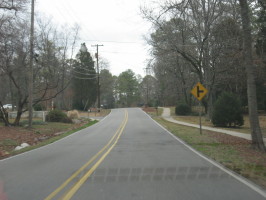 The area holds around 51 structures, 70% of them residential, which were built from the early 20th century to post World War II period. Residential construction started with the sale of Gardner Hale's land in 1885.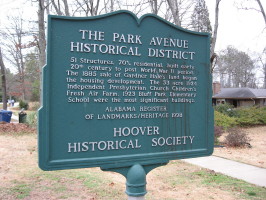 Park Avenue stretches from Shades Crest Road to Farley Road with many adjoining roads and side streets. People can drive or walk down Park Avenue and come across many interesting sites.
In 2005, the city of Hoover finished a long part of the Park Avenue Sidewalk Project, which arose when residents petitioned the city for walkways. The sidewalk starts across from the Hoover Fire Station on Park Avenue and goes to Chapel Road. Right now the sidewalk ends before Park Avenue does, so we will stay in this area for now. (Please note, however, that the city does have plans to extend the sidewalk on the last leg of Park Avenue between Chapel Road and Farley Road.)
The first stop on the sidewalk is Bluff Park School. In 1896, a one room church house was built. The area at that time was not called Bluff Park, it was called Summit, and so the school was called Summit School from 1899 to 1923. In the same year, the school moved to the current site and was renamed Bluff Park School serving a whopping 50 students!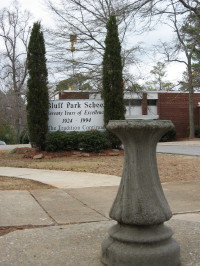 In 1988, the school expanded from two rooms to 32 class rooms. Five years later, in 1993, a new school was built next to the old Bluff Park School. The new school was called Bluff Park Elementary School and opened its door in the fall of the same year.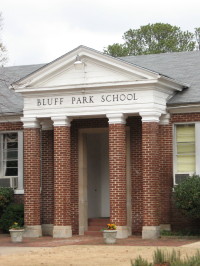 At the present, the old building hosts many groups. People can visit the Soon-Bok Lee Sellers Art gallery to see works from local artists. Also located on the second floor of the school is the office and archives of the Hoover Historical Society.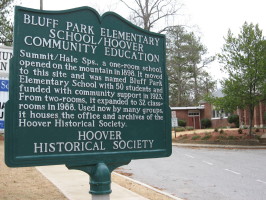 Bluff Park Elementary School has a nice slide show on their site with old photos dating back to 1899.
Moving along Park Avenue, one can see two of the original log cabins still standing today. They are private residences.
Along the sidewalk, one might also notice a plot of land mostly shielded from view by trees and shrubs. Behind the foliage is a gem of Bluff Park. The 33 acre Independent Presbyterian Church's Children's Fresh Air Farm.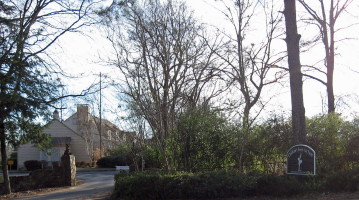 The Children's Fresh Air Farm is a residential camp for children ages 7-10. Founded in 1924, the camp allows low-income families in Jefferson County to participate in a Spring Break Camp, Fall Camp, Backpacking Camp or Canoe Camp.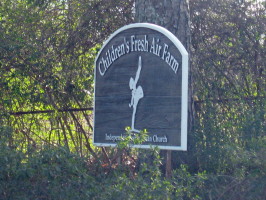 There are approximately 30 staff and 10 camper volunteers. Training for the staff consists of a planning retreat in February and Staff Training in June. Camper volunteers come to a weekend VIT program in May as well as Staff Training in June.
The Independent Presbyterian Church Children's Fresh Air Farm, the Garner Hale land and the Bluff Park Elementary School are among the most significant buildings one can see on a stroll down the Park Avenue Historical District.
To find out more check out these resources and take a stroll yourself.
Names and Places of note in Bluff Park
Thomas W. Farrar
Farrar was one of the first people to purchase land on Shades Mountain where Bluff Park now rest. Farrar opened a law office in Jefferson County in Alabama's early statehood and served in State Legislature. A poem he carved in a rock and is seen at Lover's Leap.
Octavia Spencer
Spencer was the first landowner to use the wonderful views and natural springs to his advantage. In the 1850's Spencer built a resort on the land with forty log cabins and called it "Spencer Springs"
Gardner Hale
The Hale name is prominent in Bluff Park. Most all historical markers in the area have the Hale name with in the story on them. Before purchasing the land in Bluff Park Gardner Hale served as superintendent of the Daniel Pratt Cotton Gin Factory in Prattville Alabama. In 1863 he purchased property from O. Spencer and renamed the area Hale Springs. In 1880 Hale died and his children managed the resort. His children did much of the development in BP.
William M. Hale and Evan Hale
They Built the Hale-Joseph home in 1910. William Served as overseer of the area (lived in Overseers home) William also built several historic homes on Shades Crest Road.
Daniel Pratt Hale
He was Gardner Hale's son. Ran Liberty Hall (Gardner's main house that he turned into a Bed and Breakfast Inn) and another building called Pinnacle House)
A Timeline of Name
Farrar purchased land from the U.S. William Linthicum (named land Linthicum Springs)--to--Spencer purchased 400 acres of this land in 1855 and called it Spencer Springs---to----Hale purchased land and renamed it Hale Springs. After people living in the mountains drilled wells for water, not using to springs as much, Hale Springs was changed to the name Bluff Park. After Gardner Hale's death the family put of part of the land for public sale.
References
Web
http://www.hoover.k12.al.us/bpes/history.html
http://www.ipc-usa.org/templates/cusipc/details.asp?id=24047&PID=117428
Places
*The Hoover Historical Society, Bluff Park School on Park Avenue, second floor
*Hoover Public Library, reference section.
Books and References
Hoover Library books may be checked out but some reference material can only be viewed at the library.
*Book Essays on the Bluff Park Community, The Students of History 300 Samford University Fall 2004. Dr. Marlene Hunt Rikard, Professor.
*Manuscript The ancestors and descendants of Gardner Cole Hale of Hale Springs, Alabama / a manuscript compiled
Thompson, Gregory Evan.
[Branford, CT] : Gregory Evan Thompson, 2002 (Wyandotte, OK : Gregath)



Check back often and see where our journey takes us next. Here are a few future stops on our journey to look for.
We will be taking a journey to Lovers Leap.
We will also look at a few Historical Homes of Bluff Park and much more…