Bluff Park is an interesting corner of Hoover rich in its own history. Something unique about Bluff Park is the mix of people in the area, what comes with that is stories that might not be written down in a history book or an archive. We have many "walking history books" in the area, people who have lived out history in Bluff Park. One such person is Fred Little, resident of Bluff Park since 1961.
Mr. Little was interested in the history of the area and posted about it at the Bluff Park Community Forum . After a few e-mails, Mr. Little has a special story for the history books from a time not long passed.
Mr. Fred Little tells us about moving and growing up in Bluff Park.
"My family moved to Bluff Park in 1961 about the same time many people moved from West End and Ensley. Most of the neighborhoods in Bluff Park were brand new. It was very nice and laid back. You could ride your bicycle in the street anywhere you wanted to go. There were lots of children to play with. Great friendships were formed that still last today."
"Times were more simple in Bluff Park with no trouble at all. The Sheriffs Department rode through Bluff Park maybe once or twice a day. It was kind of like Mayberry on The Andy Griffith show, even down to the barbershops. One was on Shades Crest Road at the water tower."
"The other barber shop was owned by Mack Foster and was located in Shades Mountain Plaza. This shop is where the guys hung out after school. He was great! He never ran us off even though, looking back, I'm sure we did not help his business much even though most us and our dads got our haircuts there."
The Social Scene: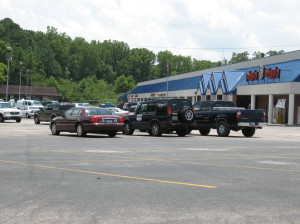 Shades Mountain Plaza today holds a grocery store, pharmacy, dentists office, drycleaners and Antique shop, just to name a few, but in the 1970's it was the local hang out. The Plaza owner at the time allowed the young folks to hold the "Plaza 500" and the "Plaza Pop Festival". Imagine the southwest end of Shades Mountain Plaza to be a huge mud field to drive cars through, much like today's game of "mudding," with the sounds of garage bands from Berry High filling the Plaza for concerts. Mr. Little recounts, "Probably about 20 cars participated in the Plaza 500. There were no buildings at the end of the Plaza parking lot. It was just a huge muddy field, so we made a road course through it."
"One car would go at a time and make several laps for the best time. I personally drove my hot rod '56 Pontiac Chieftain. Some of the guys drove their mother's cars. They came out covered in mud like today's 4x4s!"
"There were many people there to watch, probably at least a hundred, young and old. Some of the cooler dads would cheer for their sons even though deep down you could tell they wanted to do it themselves! Shades Mountain Pharmacy that was owned by Buddy Hudspeth would sell tons of candy and cold drinks. "
"At that time, there were many garage bands at Berry High School, many of which were quite good. Well, Bobby Beachum and myself thought why not ask if we could have them all come play at the Plaza one Sunday afternoon? We were given permission and it was on, The Plaza Pop Festival! "
"We had a flat bed tractor-trailer for a stage. We ran power from the shopping center. The field where we had the 500 was now our own Woodstock. The parking lot was full and we had a ball. Buddy Hudspeth's store did more business and more volume than he had ever done. People brought lawn chairs, and coolers. This was really cool."