Sidewalks have been a staple in communities for many years. Remember our parents telling us stories of walking to school in the snow? While sidewalks had disappeared from community construction sometime ago, they are now making a comeback. New subdivisions and communities, such as The Preserve, include sidewalks in their plans.

Older more established neighborhoods like Bluff Park are also getting into the sidewalk step. Residents in the community petitioned the city to build some sidewalks on Park Avenue. The city agreed and acquired grants and parcels of land to start the work.

Other residents in the area now park, walk or run on the sidewalks. Area kids walk home (accompanied by an adult) from Bluff Park Elementary School. Also during the Bluff Park Art Show in October of last year, shoppers had access to areas without having to walk in the street.

Now the construction, which is being called the Park Avenue Sidewalk Project, is in its final phase. The Hoover City Council tells Bluffparkal.org that the last section of sidewalks on Park Avenue will be starting this year. The city still has about 11 parcels in which they need to acquire the easements from the property owners so they can proceed with the project.

The last section on Park Avenue will connect Farley Road (close to Shades Crest Road) back down to Chapel Road where the sidewalk stops now. There will also be sidewalks to connect The Park Avenue Historical district to The Shades Cliff area. The sidewalk construction will also include walkways from Rockview Lane and from Park Avenue to Cloudland Drive. The work will allow people a way to walk to the Bluff Park Community Center, Shades Cliff Pool and the tennis courts.

The Park Avenue Sidewalk construction project started in 2003 and is budgeted to be finished this year.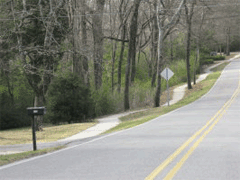 The Park Avenue Sidewalk Project brings appeal and convenience to the community.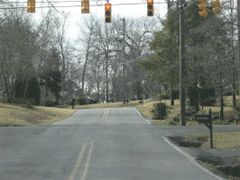 Intersection at Park Avenue and Chapel Road, the last leg of the project will start here and finish at the intersection of Farley Road.
Photos by Heather ©2007 Heather /bluffparkal.org