August is hot no matter where you are in Alabama, but kids in Bluff Park got a chance to cool down in the hot days of summer. On August 9th, 2008, Bluff Park Baptist Church hosted its second annual Snow-Day for kids and parents. A life-size snowman, complete with sign, passed the day on the Church's lawn while giving details on the event.

Inside, the fellowship hall sparkled with snowflakes hanging from the ceiling and snowmen of all shapes and sizes adorning tables and various other locations around the room.


Kids got to build their own "snowman" using snow dough, "a white glittering play dough-like concoction," Angie Barber Director of Children's Ministries said.

The kids also created their own dessert. This year's dessert was a pretzel rod that each child dipped in white chocolate. They added mini chocolate chip for eyes and buttons while the snowman hats were created using gumdrops and jelly Lifesavers.


There were also relay races where each child had to put on winter garments and race to the finish line. Other games included a snowflake matching game. Also small prizes were awarded for all the games.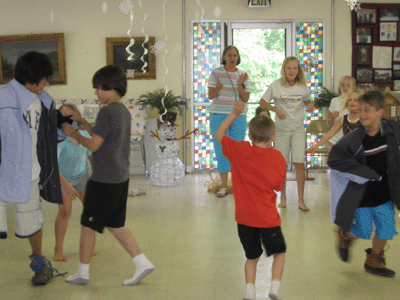 The snow theme even continued to a meal. Grilled "snowflake" sandwiches, which were flour tortillas cut to resemble a snowflake to which each child added their choice of meats, cheeses and veggies. Think they left out the the beverage? Not a chance, "Polar ice cap" was the drink of choice with blue Kool-Aid, ginger ale and vanilla ice cream.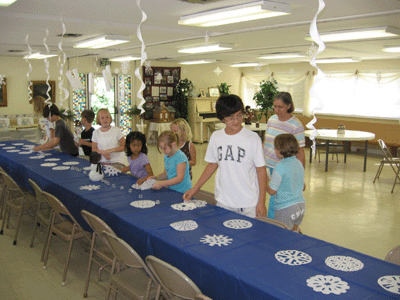 To top off the event, each child was given a a few spoonfuls of a white powdery substance on a plastic plate and a cupful of water. At the signal the water was added to the powder and in an instant each had their own pile of "snow" to play with until the end of the event. There were also snow doggy bags given to each child to carry their "snow" home in.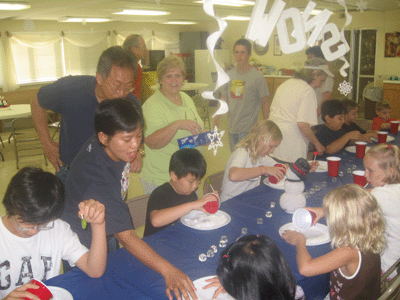 Barber says, "It was 'snow-much' fun we plan to make it an annual event."