Bluff Park - October 2008
Living next door to this house may give you the spooks! A giant black cat on the roof and cobwebs in every corner makes for quite a display on Turtle Creek Drive. "I'm not sure what possessed me to do this! I would see a yard decoration and think... I can do that!!"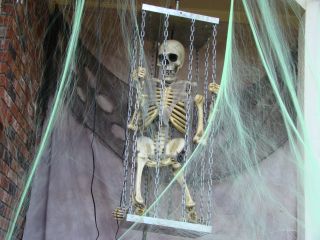 "Spook maven" Ms. Appleblossom in the 500 block of Turtle Creek Drive turns her home into a bewitching display for kids and adults to enjoy. Dare to Trick or Treat and find witches with their broomsticks, skeletons rattling their bones and even a creepy crawly or two. Some keep growing!, "I tried a very small spider one year made of garbage bags - then I said I can do that bigger…by the time I was finished, it had 14 foot legs and covered one side of the yard.", Appleblossom says.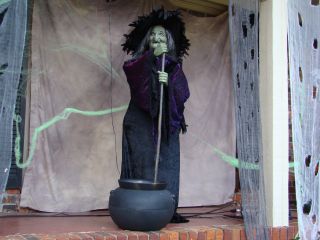 Venture to the front porch and a witch stirring her brew will greet you along with a green-faced man playing an organ. All are inflatable, which has become a favorite for her this year, "I've gotten into inflatable decorations. My favorite one is a Haunted Castle that I got last year."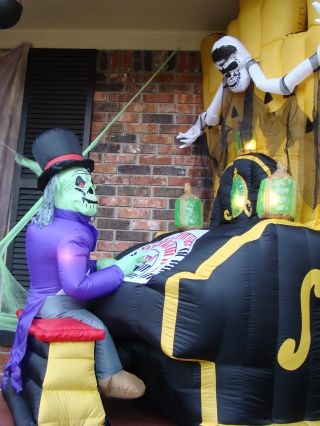 Don't worry moms and dads, this is a kid friendly display and parents love it too! "Kids love the yard, but I've found the adults are as excited about it as their kids. I love watching the people come by and see the expression on their face."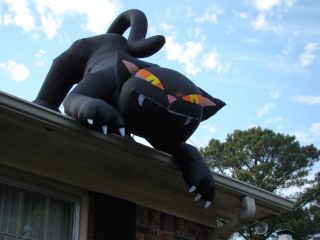 Neighbors eagerly anticipate the holiday so they can see what Halloween treats Ms. Appleblossom will have for their eyes and stomachs to feast upon. "I had 125 kids that came on Halloween a few years ago - I ran out of candy. One family came from Pleasant Grove - they come every year now."
Everything is lighted from dusk until 9 p.m. every night…unless it's raining or high wind.