BluffParkAl.org Special - The Opening of the Hoover Police Department Bluff Park Sub-Station
December 7, 2006
Updated 10/20/2007 04:29:31 PM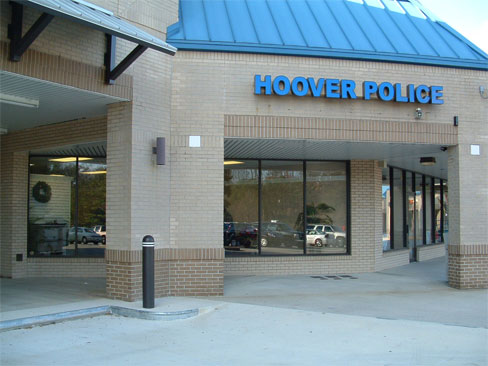 Bluff Park - Nearly four months after it was first proposed by Bluff Park resident Ben Shelton using a handout, the Hoover Police Department Bluff Park Sub-Station officially opened.

The sub-station is located at 2146 Tyler Road, in the middle of the Bluff Park Village shopping center, between ArmorSafe Storage and Dollar General.

The opening attendees included Hoover Mayor Tony Petelos, Hoover City Council President Gary Ivey, Council Members Brian Skelton, Gene Smith and Jack Wright. Also present were Hoover Police Chief Nick Derzis, Assistant Chief A.C. Roper and several members of the Hoover Police Department. Numerous Bluff Park residents and business owners also attended. Media coverage was provided by ABC 33/40, WIAT Channel 42, NBC13 ,Hoover Gazette and other media. The Birmingham News also ran a story.As the reports from these outlets come out, bluffparkal.org will link to them.